Main content starts here, tab to start navigating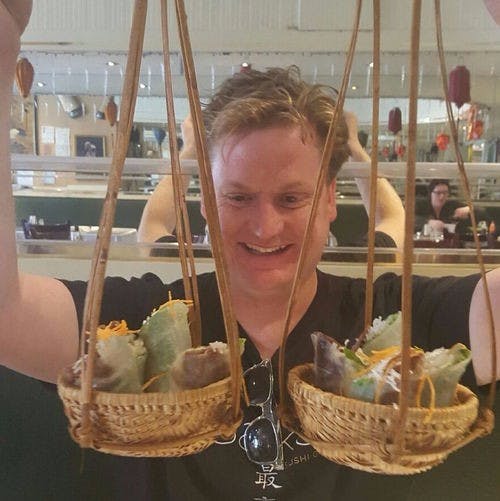 Erik Lowe
Chef/Owner
Erik Lowe, a native of Salt Lake City, Utah, began his culinary career by way of the Pacific Northwest. Ever since he was a boy, he and his family visited relatives in Washington State where he learned to fish for Dungeness crab and tasted water-to-table cooking for the first time. During high school, he worked at a few local restaurants in Salt Lake City before taking a position at the Porcupine Pub & Grill where his passion for cooking began to take hold. One blizzard-struck day, Lowe decided to skip class at the local community college and go skiing. En route, his car broke down. He proceeded to hitchhike his way to the slopes when chef Gary Pankow of the lauded Café Diablo serendipitously picked him up. What began as a casual conversation during the ride ended in a job offer. Lowe skipped town and moved to southern Utah where he spent the summer season cooking refined Southwestern food.
In 2001, Lowe enrolled at the California Culinary Academy in San Francisco. Upon graduating in 2003, he took a job at Jeanty at Jack's under the tutelage of chef Justin Deering. Lowe quickly ascended to sous chef, a post he held for two years. From there he helped launch the now-closed Tartare restaurant and intermittently cooked at Piperade and Bocadillos. In 2006, Lowe joined Hiro Sone's team at Ame as Greg Dunmore's executive sous chef. Together the team was awarded a Micheline star in 2008. In 2009, he landed the chef de cuisine job at BIX, a beloved San Francisco fine dining establishment. He helmed the kitchen for four years before helping chef-owner Bruce Hill and the Real Restaurants team re-open another San Francisco institution: Fog City.
It was during his time at BIX and Fog City that Lowe met his now business partner and pastry chef Aaron Toensing. Together they began to talk about opening a restaurant, a fantasy that evolved from a burger spot to a traditional red sauce joint to Maybeck's, a refined San Francisco eatery serving up innovative American standards.
At Maybeck's Lowe's plan is to create comfortable American cuisine with an open-minded approach. The food will be straightforward and seasonal with a hint of smoke from his new favorite toy, the Josper Grill.