Main content starts here, tab to start navigating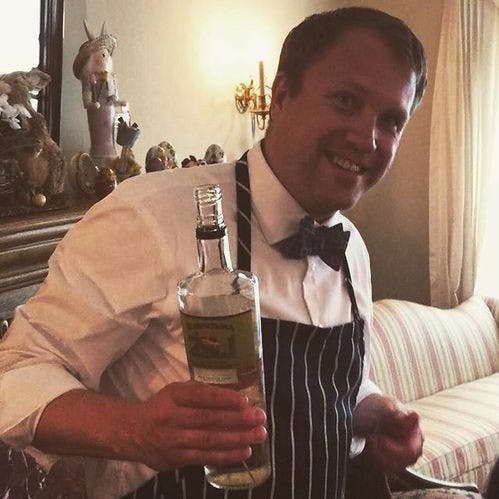 Aaron Toensing
Chef/Owner
Born in St. Croix Falls, a small Wisconsin town bordering the Mississippi River, Aaron Toensing launched his culinary career on a riverboat the summer after eighth grade. In a region where dining out was rare and restaurant options slim, the boat offered a glimpse into the exotic world of fine dining and entertainment. That summer, and every summer until high school graduation, Toensing returned to kitchens where he continued to gain skills in service etiquette, event catering, and cooking. Buoyed up by his cooking experiences on the riverboat, Toensing enrolled at University of Wisconsin-Stout to pursue a degree in hospitality and food service. Realizing mid-education that he wasn't interested in hotel management or food service administration, 22-year-old Toensing left Stout to work as a line cook at a nearby Hilton Hotel where he soon found himself in the pastry department. From the beginning, he was drawn to the science of desserts. In pastry, he discovered that his aptitude for precision in the kitchen was well suited to the high degree of organization and meticulous methods needed to execute consistently superior desserts.
In 1996, Toensing enrolled in the pastry program at California Culinary Academy in San Francisco. Degree in hand, he signed on as pastry cook at Postrio in 1998, where he stayed for three years working under Janet Rikala. 2001 brought an offer to oversee the pastry program at Bix. The restaurant provided a platform for Toensing to explore, evolve, and refine his pastry prowess in addition to meeting now business partner Erik Lowe. Toensing and Lowe worked together for four years before helping chef-owner Bruce Hill and the Real Restaurants team re-open Fog City. Shortly thereafter, Toensing and Lowe decided to open their own spot, which was originally named Spaghetti Bros., in the Marina district.
At Maybeck's, Toensing's dessert menu reflects his "simple is better" philosophy. His five to six rotating desserts include house-made gelato; his take on traditional tiramisu; seasonal fruit dishes such as apple pie with hatch green chiles and a cheddar-flecked crust; and grilled nectarines with brown butter. Toensing also oversees the pasta program at the restaurant. His pastas are made using an Italian brass extruder, the sound of the machine echoing the hum of a Mississippi River paddle wheeler.